November 2023 | Ingrid Hofmann & Sonja Heinrich Shine in the "Staffing 100 Europe 2023" List
Recently, Ingrid Hofmann, along with Sonja Heinrich, Managing Director and President of the US division, have been jointly recognized by Staffing Industry Analysts (SIA) as leading figures in the European staffing industry in the "Staffing 100 Europe 2023" list. The award ceremony was themed "Champions of Change." The jury's reasoning: The awardees confronted current economic challenges and impressed with innovation and exceptional service.
Thank you, Mrs. Hofmann and Sonja Heinrich, for your pioneering spirit and dedication to creating a workplace worth envying. We are delighted with this recognition and proud of so much female empowerment within our organization.
October 2023 | Transatlantic Ties that transform: Celebrating Nuremberg & Atlanta's Partnership
In October our Atlanta HQ had the honor of hosting a distinguished delegation from Nuremberg, Germany. Among the honored guests were Lord Mayor Marcus Koenig, Head of International Economic Affairs Sebastian Kramer, Prof. Dr. Jürgen Prömel, President of the University of Technology Nuremberg, and our visionary founder, Ingrid Hofmann. This momentous visit not only underscores the profound relationship between our Atlanta team and our German associates but also highlights the bond between our two cities, Atlanta and Nürnberg. As we pave the way forward in the staffing industry, our combined efforts and mutual trust showcase the immeasurable potential of transatlantic partnerships. Together, we are building a brighter, globally-connected future.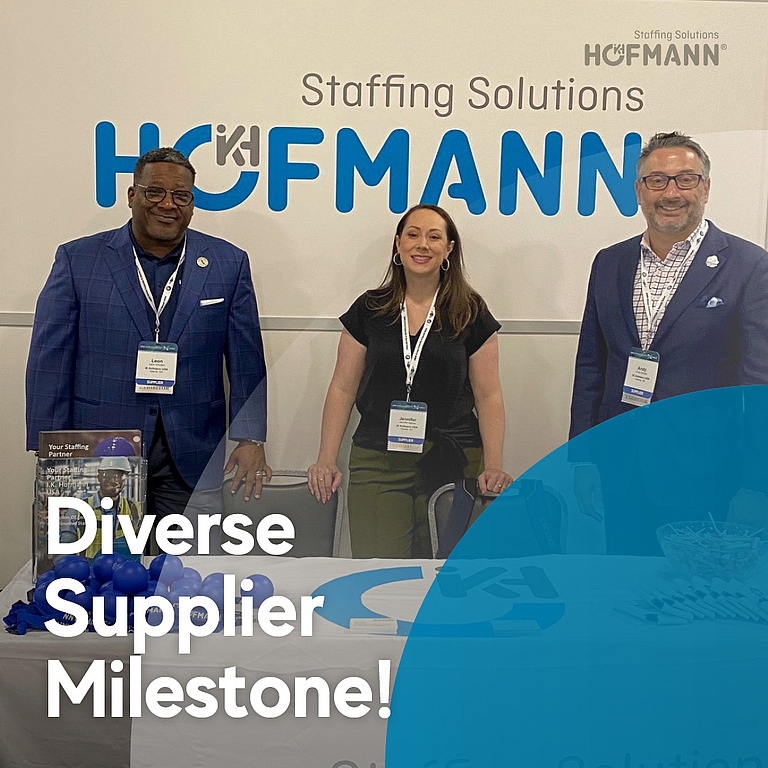 August 2023 | I.K. Hofmann participating in BMW Supplier Diversity XChange
We're are proud to announce that today we participated in the BMW Supplier Diversity XChange. BMW Group's commitment to promote supplier diversity is not just commendable, but truly inspirational. Their mission to actively partner with a multitude of suppliers that echo the diversity of their customers aligns perfectly with our own Diversity Wins campaign, which we've championed for several years now. Being part of this event means we stand hand in hand with BMW in their journey towards creating a more inclusive business environment. Diversity propels innovation, minimizes risks, and fuels economic growth for all. As we align with BMW's vision, we're committed to building long-lasting relationships, promoting inclusion, and crafting sustainable value for our employees, customers and the diverse communities we serve.
August 2023 | New Logo and Inspiring New Vision & Mission: Paving the Way to a Global Era
We are thrilled not only to unveil our new logo but also to roll out our updated vision and mission. The fresh design and renewed strategic direction signify a new era, one that aligns with our strategic aim of establishing a powerful global brand presence, mirrors our commitment to continuous evolution, and exemplifies our dedication to excellence, innovation, and a family-oriented culture. Our new vision is clear: to be the preferred staffing partner, driven by excellence, innovative solutions, and cultivating a family-oriented culture while proactively helping our employees and customers thrive. Our mission echoes this vision: we are passionate about providing unparalleled workforce solutions through innovation, quality, and a people-first culture. We strive to connect individuals with opportunities that enrich the lives of our employees, clients, and the diverse communities we serve.
A key feature of our new logo is the inclusion of the "IKH", which reflects the initials of our owner and founder Ingrid K. Hofmann and reminds us of the importance of our family-owned history. Our parent company Hofmann Personal in Germany serves as the flagship in a diverse and successful brand fleet, leading the way into this exciting phase of 'New Work' which is characterized by changing conditions and demands, which require adaptability and promises new and diverse opportunities.
At the heart of our logo transformation is the 'O' in 'Hofmann'. Symbolizing perfection, timelessness, and sovereignty, the 'O' has always been central to our brand identity. As a representation of the sun and life - given that all life begins in a circular cell - the 'O' plays a significant role in the design of our communication and advertising materials. Viewers will instinctively strive to complete a circular segment, which is a concept we leverage to make our materials more engaging.
Moreover, the US logo redesign is part of our broader strategy to strengthen our global branding and market presence. By unifying our image under a single, distinctive logo with our parent company and other European subsidiaries, we are positioning I.K. Hofmann USA Inc. for greater recognition and influence on the global stage. This alignment comes soon after joining the World Employment Confederation (WEC) in the first part of 2023. On a global level, the WEC represents organizations active in the employment market in 50 countries and provides access to international political decision-makers (ILO, OECD, World Bank, IWF, IOM, EU) and stakeholders (trade unions, academia, think tanks, NGOs). In addition, its members offer more than 70 million people across the whole world access to the employment market and to meaningful work. This logo alignment furthers our goal of making an impact on a global level.
We are excited to embrace this new journey. As we venture into this new era, our renewed vision and mission guide us to continue delivering exceptional service and innovative solutions that exceed our clients' and candidates' expectations.
July 2023 | I.K. Hofmann Top Rated Staffing Firm Third Time Running
We are thrilled to share that we have been honored as a Top Rated Staffing Firm for the third consecutive time, and we've additionally picked up the distinguished award for the first half of 2023. This recognition acknowledges our steadfast commitment to delivering an unmatched client experience, operating with peak efficiency, and upholding a rock-solid brand reputation. Being named a Top Rated Staffing Firm places us in a group of over 90 prestigious firms, all of which share a dedication to real-time feedback, immediate response to that feedback, consistent assessment of our performance, and the ongoing elevation of our brand reputation.
This award is more than a trophy on a shelf - it's a reflection of the tireless effort, dedication, and sheer determination that every member of our team has brought into play so far in 2023. It's also a reminder of our commitment to be a trusted advisors for our talent as they move forward in their careers. Great Recruiters' Founder, Adam Conrad, stated: "Winning a Top Rated award is a sign of consistent quality service. It's the stamp of a reputation built on excellence. With a Top Rated staffing firm, you know you're in the best hands." These words resonate with us, as we strive every day to provide an outstanding service that exceeds expectations.
As we look ahead to the rest of 2023 and beyond, we are excited for what's next. With continued hard work and commitment to excellence, we're confident that our future will be filled with more milestones like this one. Stay tuned to our journey, we promise it will be exciting!
.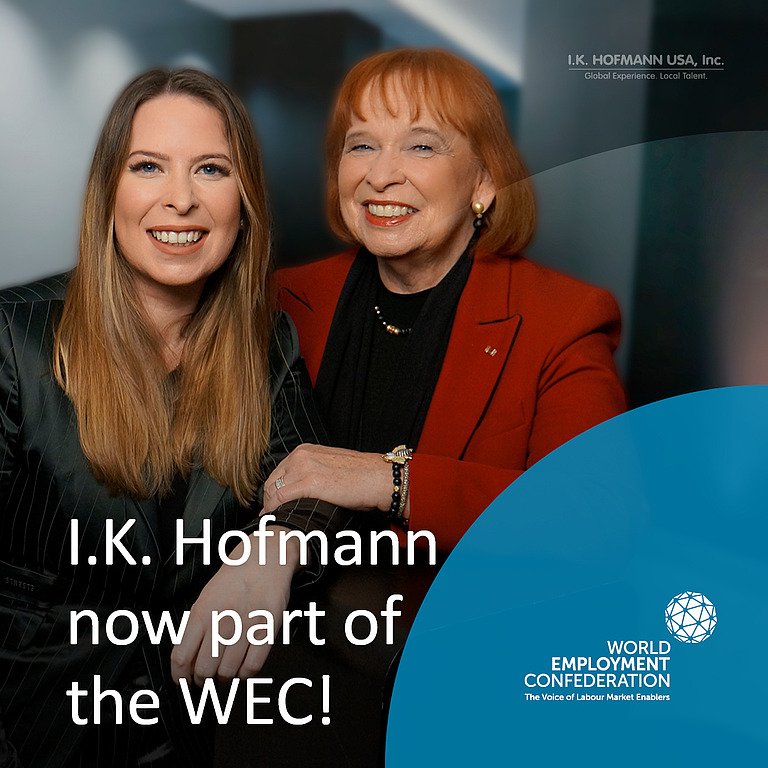 February 2023 | I.K. Hofmann now part of the WEC
At the start of this year, I. K. Hofmann joined the World Employment Confederation (WEC). Based in Brussels, the WEC represents the global interests of the HR services sector. The WEC works to increase awareness among political decision-makers and opinion-formers of the importance and value of the HR services sector to the job market and the economy.
Sonja Heinrich, Member of the Executive Committee of I. K. Hofmann GmbH and President of I.K. Hofmann USA, sees membership of the WEC as an expedient and organic step. "A changing working world knows no borders. Therefore, we must face up to international challenges. For that, it is necessary to have a dialogue with appropriate partners. The WEC makes that possible."
The aim of the organisation is to promote the employment sector as a key player in the shaping of the future of work and to champion policies that support its growth and development. Through cooperation and collaboration the WEC seeks to improve the competitiveness and sustainability of the employment sector.
"We feel extremely honoured and delighted to be part of the global WEC family", said Mrs Heinrich. "And as a new member, we can hardly wait to swap experiences with other members, to get creative together, to benefit from one another and to jointly develop ideas for the future of HR management."
On a global level, the WEC represents organisations active in the employment market in 50 countries and provides access to international political decision-makers (ILO, OECD, World Bank, IWF, IOM, EU) and stakeholders (trade unions, academia, think tanks, NGOs). In addition, its members offer more than 70 million people across the whole world access to the employment market and to meaningful work.
November 2022 | Ingrid Hofmann in Staffing 100 Europe List
Congratulations to our founder Ingrid Hofmann for being included in the annual "Staffing 100 Europe List". This list represents the most influential people in the European staffing industry. Honoring HR professionals who boldly advance and develop the ecosystem for HR solutions, even during one of the most challenging times in recent world history. We are very excited about this award, after all she's simply the best!
Find out more about our founder here.
.
August 2022 | We are Top Rated!
We're excited to announce that we are part of the Top Rated Commercial Staffing Firms for the First Half of 2022. Great Recruiters Top Rated award recognizes the exceptional strides our firm has made in:
Prioritizing our candidate experience
Proactively seeking reviews—at every stage of the candidate journey
Taking online reputation and brand seriously
Improving our organizational efficiency through automation & real-time insights
Don't take our word for it though, click HERE to see why over 80% of our candidates Highly Recommend our service and more than 9 out of 10 would recommend us to a friend.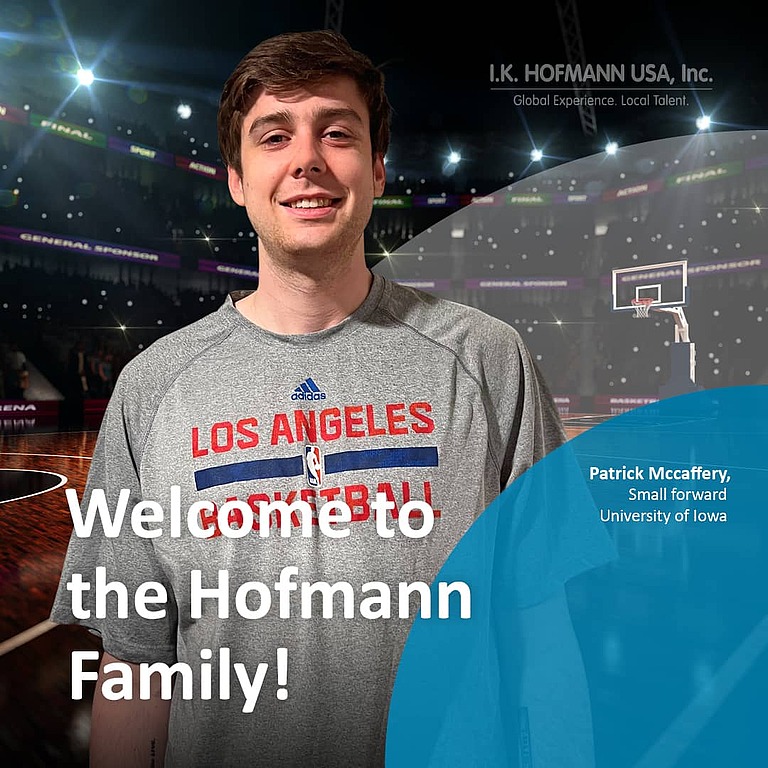 July 2022 | We welcome our new Brand Ambassador Patrick Mccaffery
We are happy to announce our latest sports sponsorship with our new Brand Ambassador Patrick McCaffery. Patrick is a small forward who plays for the University of Iowa Men's Basketball team and is majoring in Sport and Recreation Management.
Since the beginning, supporting communities, sports and diversity is at the core of who we are as a company in Germany and that has carried on to I.K. Hofmann USA. It is reflected in our Mission Statement, and it lives in our daily actions. We are extremely excited to partner with Patrick as we look to support local athletics to bring communities together and provide them with jobs through our international "No Fan without Work" campaign.
November 2020 | I.K. Hofmann USA is being featured in SIA's Global Power 150 – Women in Staffing 2020 List!
Congratulations to our CEO Ingrid Hofmann who was named to Staffing Industry Analysts' 2020 list of the Global Power 150- Women in Staffing.
The list, in its sixth year, recognizes female leaders and influencers in the global market space. The list is not a ranking but a shout-out to those whose unique vision and contributions take the industry forward, in niche as well as global markets. "The Global Power 150 – Women in Staffing 2020 are redefining leadership in their decisions, their compassion and their service to their teams and communities."
Click here to read the full article and to see Ms. Hofmann's Nomination in the Global Power 150 Women in staffing list.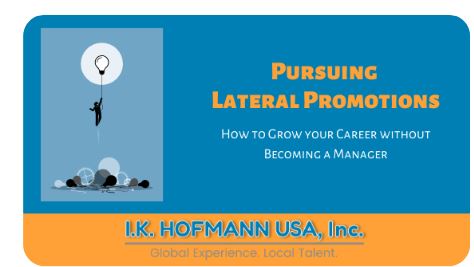 March 2020 | Job Hunting

When you are job hunting, it is good practice to carefully read the job description for the position being offered and evaluate what the possible opportunities for progression might be. Often, there is apperception that in order to progress in your career you must transition into a managerial role.
However, that is not always the only option for growth and may not be the one that is best suited for you.
There are many positions that offer employees the opportunity to challenge themselves, learn more and earn more money without transitioning into a managerial role. Here are some great tips for how to grow your career without becoming a manager from Fortune.com:
EXPAND YOUR JOB RESPONSIBILITIES
If there is another department you are interested in working with, or work-related projects that you would like to be part of, speak to your boss about taking on the additional responsibilities and see if your compensation can be adjusted to reflect the addition of those tasks.

DEDICATE TIME TO LEARN NEW SKILLS
Take initiative to expand your abilities and increase your value as an employee through additional training courses or certifications. Identify what skills are the most valuable to your company and work to acquire them.

DO SOME CONSULTING
Consulting gives you credibility in your area of expertise. Whether you take on a side gig to earn some extra cash, or do consulting within your company, itis an excellent way to impart your knowledge and expertise while creating credibility.

BECOME AN EXPERT IN YOUR AREA AND CAPITALIZE ON IT
Becoming the best at what you do turns you into not only a source of reference for your teammates, but also an authority figure. You will have an increased presence in your industry and likely be asked to take on additional responsibilities, progressing your career.

PARTICIPATE IN INDUSTRY ASSOCIATIONS
Find organizations within your industry and join them or participate in events related to your industry. This will not only show that your work is important to you, but also expand your network, enable you to learn about potential opportunities, and give you a competitive advantage by learning how other companies approach the same industry related challenges.

BE UPFRONT WITH YOUR COMPANY
Be transparent with your company about your desire to grow without managing. Many companies would rather find or create a role that fits than risk losing a competent team member.

MOVE LATERALLY TO A COMPANY WHERE YOU CAN GROW MORE
If the only option with your current company is to move into a managerial role, it may be time to find another company with opportunities aligned with your goals. Other companies in the industry may be more innovative or considered great places to work, making the shift a beneficial decision. Transitioning to a smaller company might produce more opportunities for a variety of responsibilities while a larger company may offer the benefit of making more prestigious connections.
If you determine that a lateral move might be necessary, we can help!
Our recruiting agents have a wide breadth of knowledge on various industries and the skills employers find valuable. In addition, we utilize specific market analysis reporting which provides a solid grasp on the current compensation within your industry that is commiserate with your skills and we will work to get you within that range. Give us a call and let's look at what potential opportunities are waiting for you!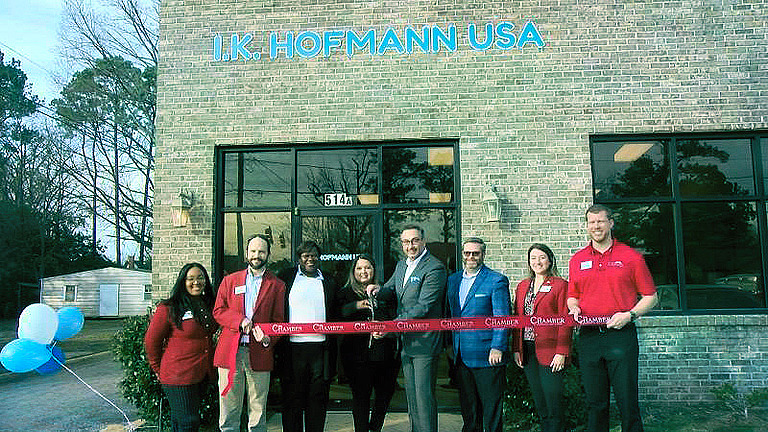 January 2020 | I.K. Hoffmann USA celebrated the opening of its new location in Tuscaloosa, AL.
Members of the Chamber of Commerce of West Alabama joined Hofmann CEO Andy Decker for an open house and ribbon-cutting ceremony. The branch opening allows I.K. Hofmann to pursue their goal to better meet the needs of their clients and assist people within the Tuscaloosa community to find and register for jobs.